Samedi après-midi, une quarantaine d'adhérents et amis se sont réunis pour participer joyeusement à notre Loto annuel. François a été bien aidé par Juliette, la petite fille d'Annie et Alain, qui a ainsi pu bien réviser ses nombres en anglais (!…).
La pause goûter a été très appréciée avec beaucoup de gâteaux absolument délicieux …
Et c'est Monique, qui, cette année, a gagné le 1er Prix, deux repas au restaurant gastronomique Le Boisvinet à St Gilles Croix de Vie. Bon appétit !!!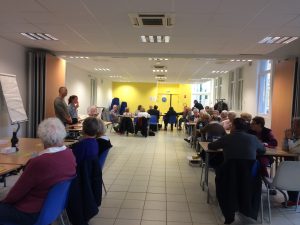 On Saturday afternoon some forty members and friends  gathered for as amiable game of Loto.  Francois had a new and very able assistant in Juliette, granddaughter of Annie and Alain.  She did the 'calling' in French and English.
The interval gave access to a delicious array of home-made cakes, after which games continued until the grand finale when Monique won the number one prize of a meal for two at the renowned Restaurant de Bois Vinet.