The threatened rain held off, happily for early arrivals as the setting up for the hall for a bumper crowd took a little longer than anticipated.

La pluie annoncée n'a finalement pas fait son apparition, heureusement pour les participants arrivés en avance car la décoration et la préparation de cette petite salle pour une telle affluence ont pris plus longtemps que prévu et ils ont dû attendre dehors !



Mathematical calculations had promised that all the 60+ attendees would be accommodated comfortably.   In the event, there was somewhat more than that number but with recalculation and a little juggling all was arranged. De savants calculs nous avaient démontré qu'on arriverait à installer confortablement  les 62 membres inscrits. Malheureusement, des arrivants supplémentaires non prévoyants nous ont contraints à de nouveaux calculs et un peu de remue-ménage pour caser tout le monde!… (en espérant qu'il y aurait assez de nourriture …)
The evening got off to an excellent start.   As guests entered, they were  offered a glass of sparkling  'Pimms'  (tres british), created by  Charles. La soirée a pris un excellent démarrage. Dès leur entrée, on offrait aux arrivants un verre de "Pimms" (très british), préparé par Charles.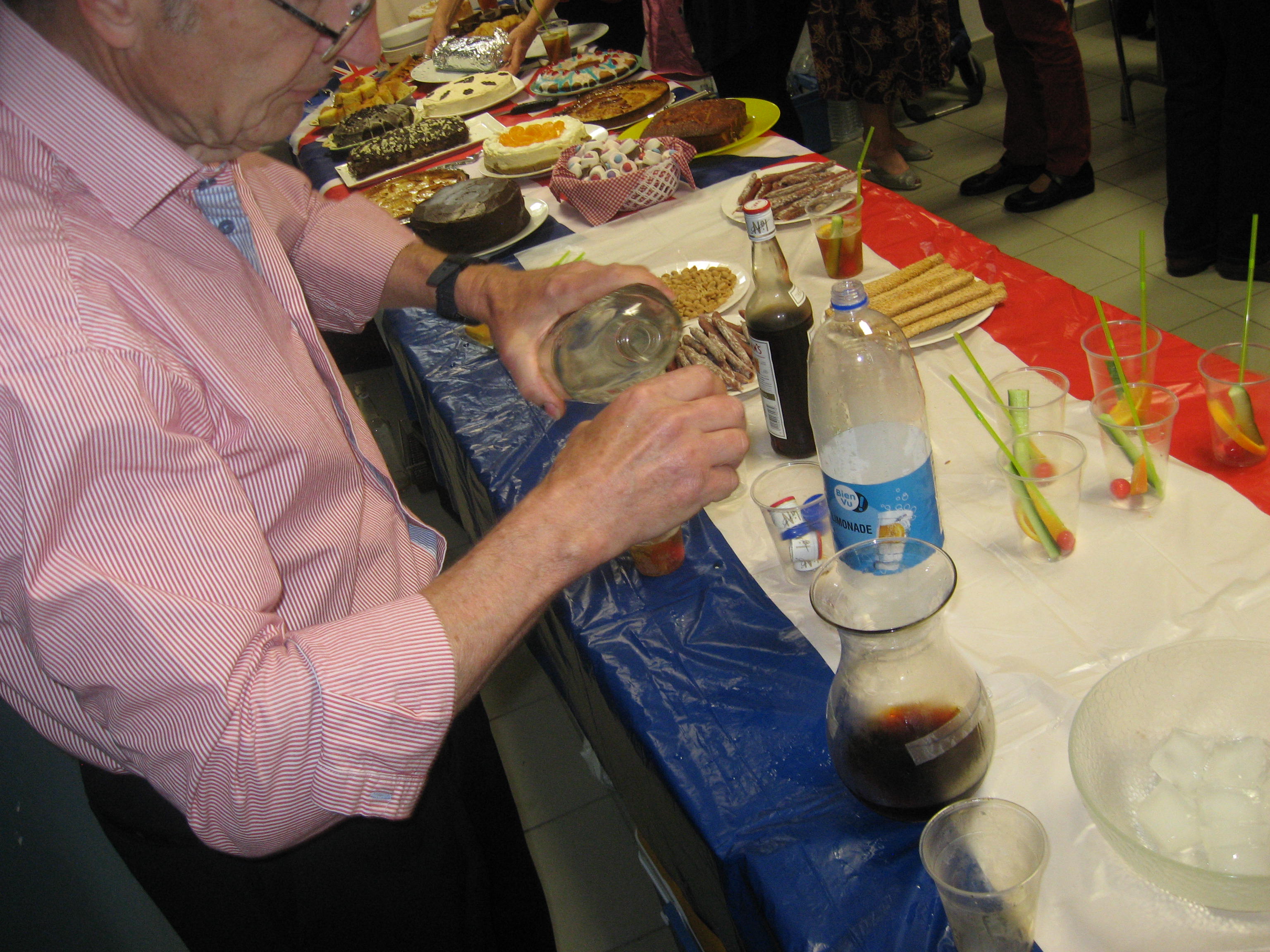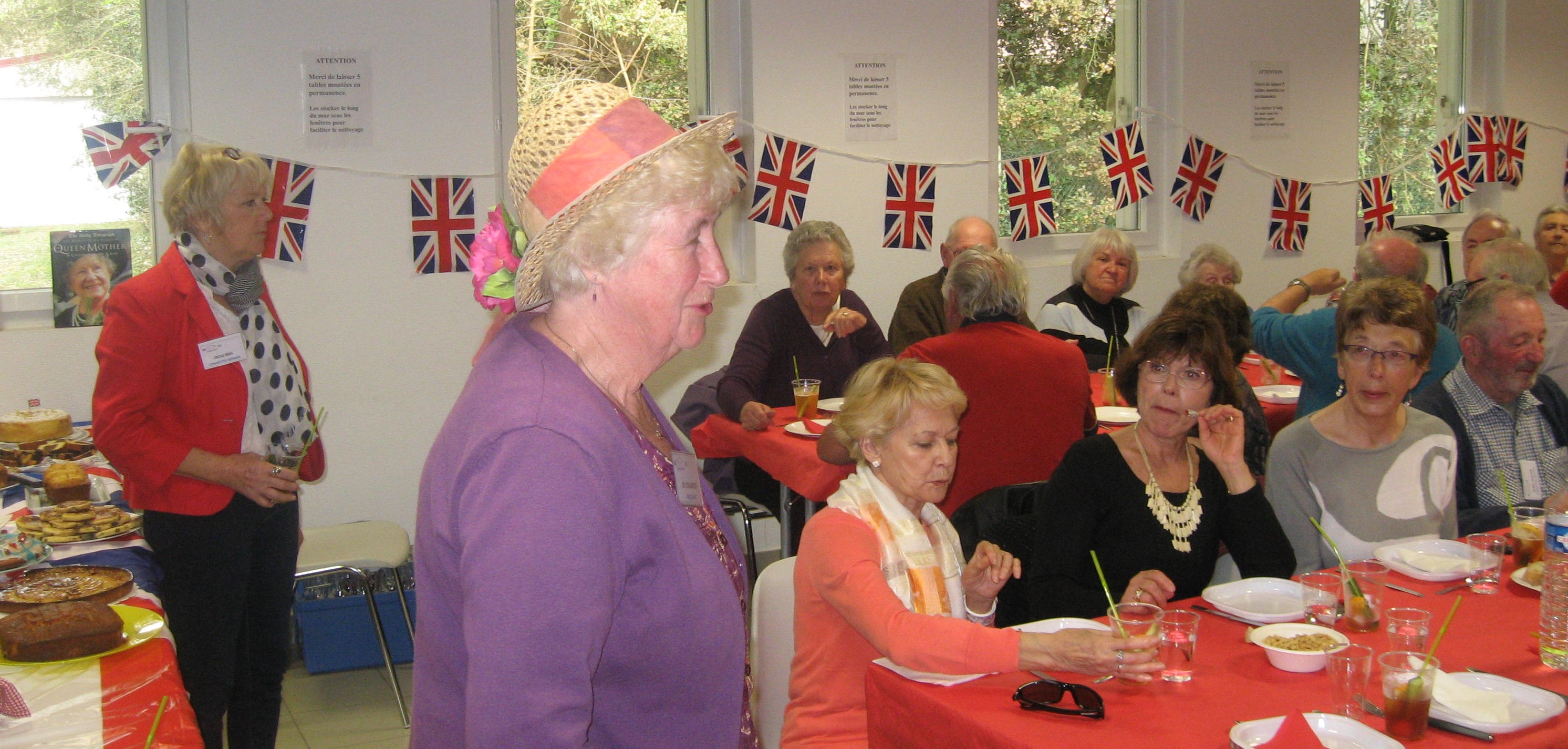 After a few words of welcome from The President……..Après quelques paroles de bienvenue de la Présidente…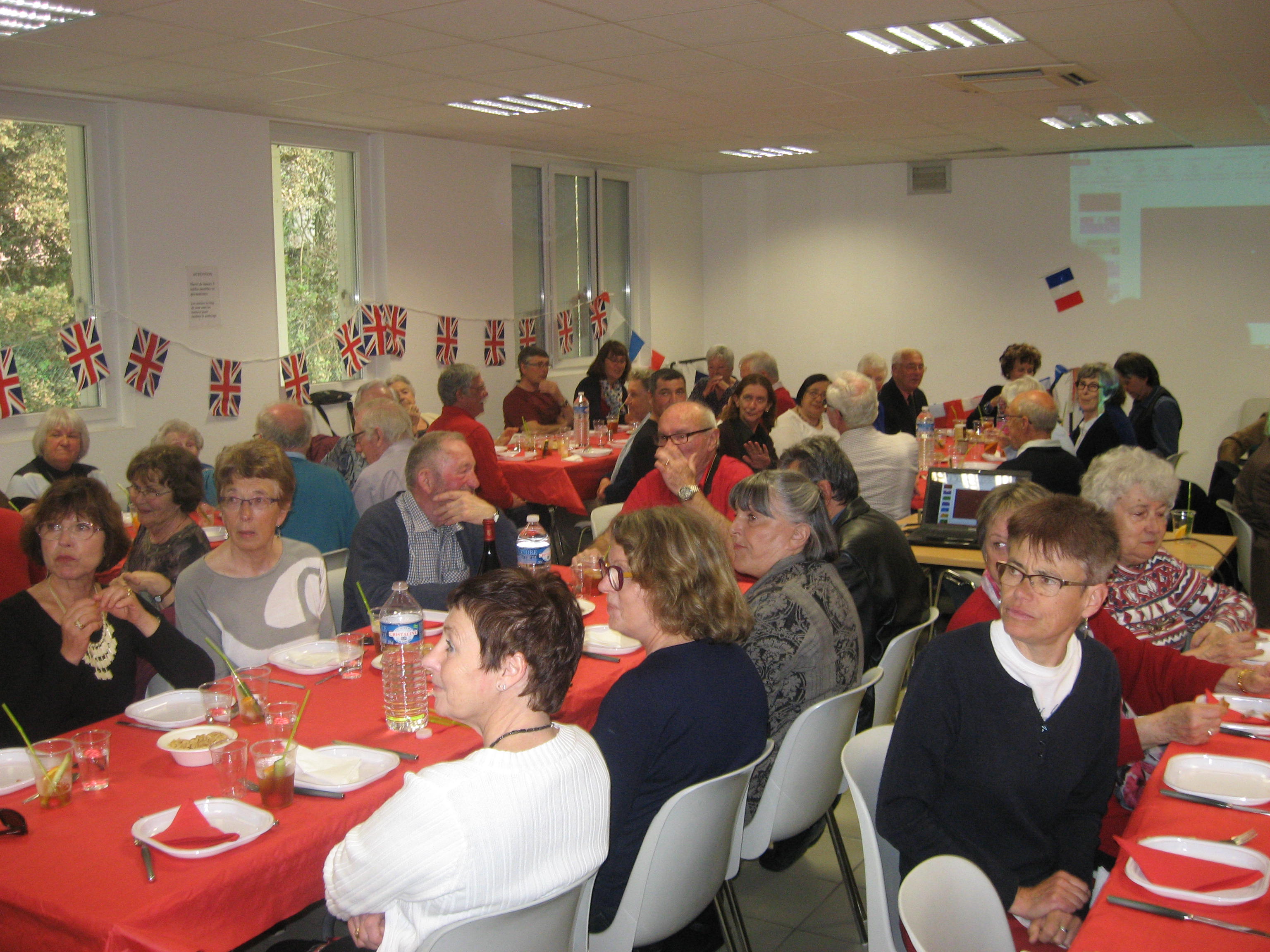 Conviviality was very much the order of the day with lots of noise and jollification. La convivialité était à l'ordre du jour, avec beaucoup de bruyantes réjouissances.

A more focussed note was introduced when Francois and Cecile showed their combined production of a musical diaporama illustrating  the life of Her Majesty Queen Elizabeth II.   The show ended with the playing of the British National Anthem, "God Save the Queen".   British members were very moved by the way in which our French friends spontaneously rose to their feet for the anthem. Le thème de la soirée a été enfin abordé lorsque François a projeté un diaporama musical illustrant la vie de la Reine Elizabeth II, qu'il avait concocté avec la précieuse aide de Cécile. La projection s'est terminée avec l'Hymne National Britannique "God save the Queen". Les membres Britanniques ont été très touchés par la façon dont leurs amis Français se sont spontanément levés pour chanter avec eux.
The tone was then lowered to a more mundane level with a short quiz of 'queenly facts' from Brian.    It was then time to eat! On est ensuite passé plus prosaïquement à un petit quiz concernant la Reine, élaboré par Brian. Les gagnants ont reçu un petit  cadeau très symbolique. Il était enfin l'heure de dîner !…

Jo' and Josette had re-created a dish which was served in 1953 at many banquets to celebrate the coronation.   It was a time of post-war austerity,  when chicken was very much a treat so the meal is relatively simple…………..  but was received with considerable enthusiasm in 1953 – as it was on April 21st 2016.   So much so that many requests for the recipe were made. (Go to Photos and Archives on the main menu for a detailed recipe). Jo' et Josette avaient recréé un plat qui avait été servi en 1953 dans de nombreux banquets pour célébrer le couronnement de la Reine. C'était encore un temps d'austérité après-guerre, quand manger du poulet était une vraie fête, donc le plat est relativement simple … mais il a soulevé l'enthousiasme en 1953 – de même que le 21 avril 2016 ! Si bien que de nombreuses demandes pour la recette ont été formulées. (Vous en trouverez  la recette détaillée sur ce site – voir 'Photos et Archives').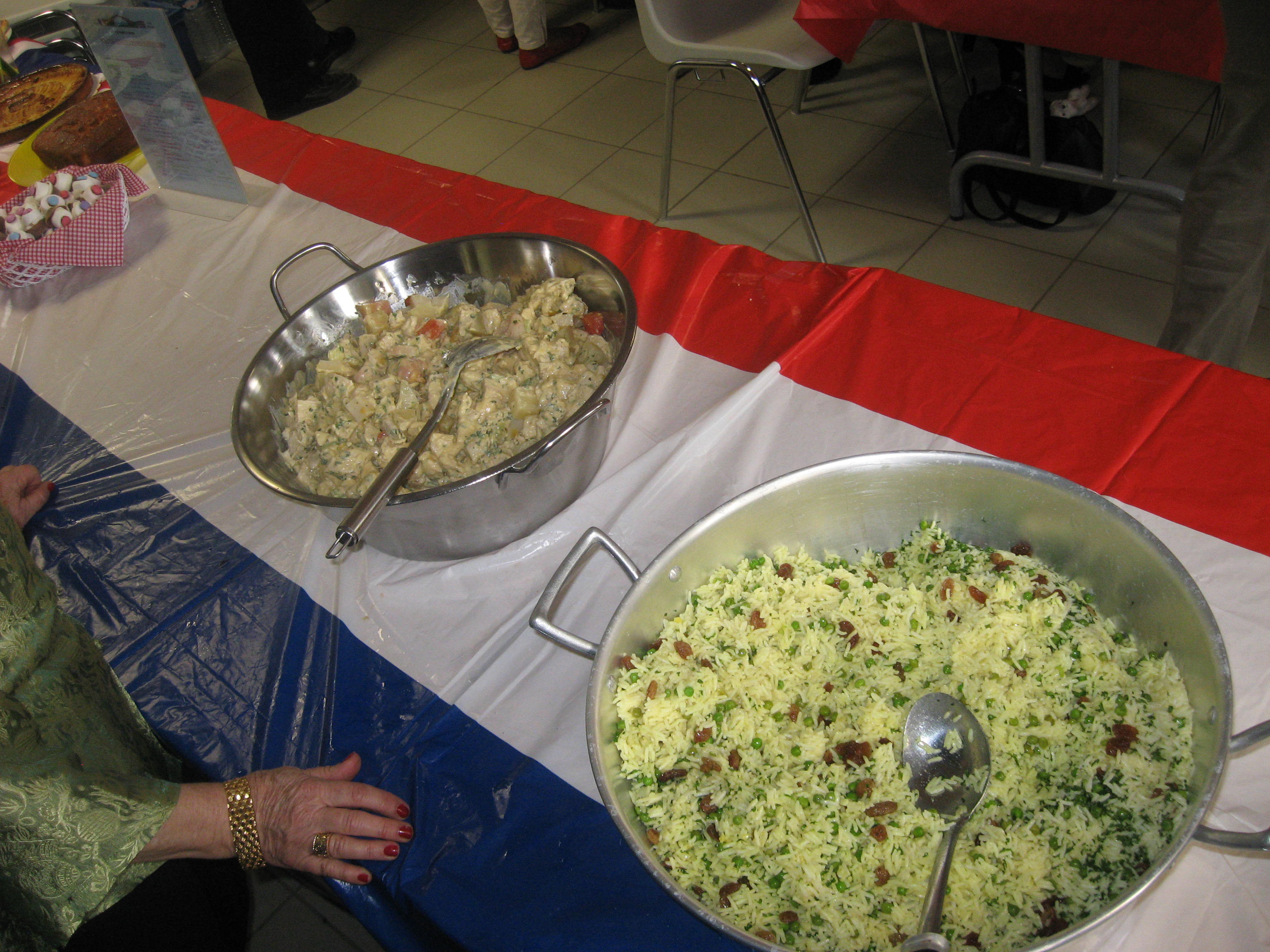 A number of e.mails have been received today – Friday – expressing Members satisfaction with enjoyment of the evening.  Your Committee were very pleased to have organised the event and to have enjoyed it every bit as much as you all.  Thanks to everyone who participated in any way………   Oh and many thanks to the Members who contributed all the wonderful cakes for 'afters'. Un grand nombre de messages ont été reçus aujourd'hui, envoyés par des participants pour remercier les organisateurs et faire part de leur plaisir d'avoir assisté à cette soirée. Votre CA est ravi d'avoir organisé cette manifestation et l'a apprécié autant que vous. Merci à tous ceux qui ont participé de quelque façon que ce soit. Et de très très grands remerciements aux Adhérents qui ont apporté des gâteaux absolument magnifiques et délicieux et … très appréciés !…