Jeudi dernier, nous nous sommes tous retrouvés pour une joyeuse soirée, autour d'un buffet campagnard et de délicieuses crêpes concoctées par notre ami François !…
Last Thursday, we could all be found having a lovely time enjoying an excellent buffet and delicious crepes concocted by the highly productive Francois.   (Crepes Suzettes fantastic)!
Nous avons loué la cuisine de la Baritaudière pour la première fois, pour que François puisse préparer ses crêpes : au chocolat, aux pommes caramélisées, suzette (miam, miam…), aidé de Jacqueline et André (qui se chargeaient de fourrage des crêpes…)

For the first time, we had hired the professional kitchen at La Baritaudiere where the various crepes were prepared, assisted by Jacqueline and Andre (who was in charge of 'toppings')
Et nous avonspu utiliser le lave-vaisselle professionnel, qui a beaucoup plu à David : il s'est d'ailleurs chargé de toute la vaisselle avec l'aide de Wendy et Maryse . 
We had use of the equally professional dishwasher – 3 minutes per load..David was in his element, aided by Wendy and Maryse.  They managed to eat a few crepes nonetheless.
                                                      .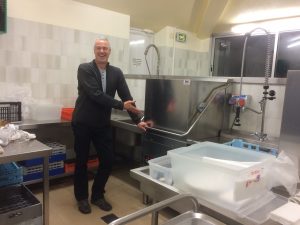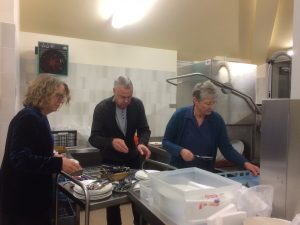 Et tout en mangeant une crêpe entre deux vaisselles …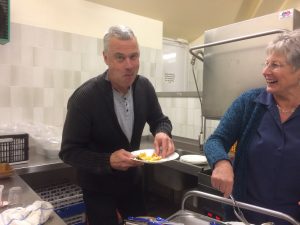 Alain s'était chargé de prendre les commandes de crêpes, mais ses clients oubliaient ce qu'ils avaient commandé.
.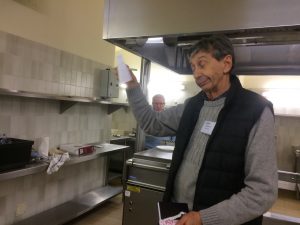 Alain was in charge of taking orders for crepes, but his customers seemed to forget what they had ordered.
Whilst Brian was occupied filling (and re-filling) numerous bottles as quickly as they were emptied!
tandis que Brian se chargeait de remplir les nombreuses bouteilles … au fur et à mesure qu'elles se vidaient!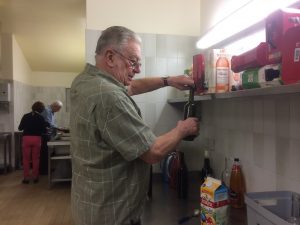 La soirée s'est terminée gaiement en chansons et certains auraient bien aimé continuer beaucoup plus tard, mais les organisateurs avaient encore à tout ranger et nettoyer, ce qui représente un gros travail  …
The evening ended with singing and general tomfoolery.   It would have been great to have continued 'til the small hours, but there was lots to do before leaving.   "Here's to the next time", as the song goes. 
VIVA PAELLA – THURSDAY MARCH 22