Thursday evening 7pm and they began to arrive……………… Jeudi soir à 19h, ils commencent à arriver ………..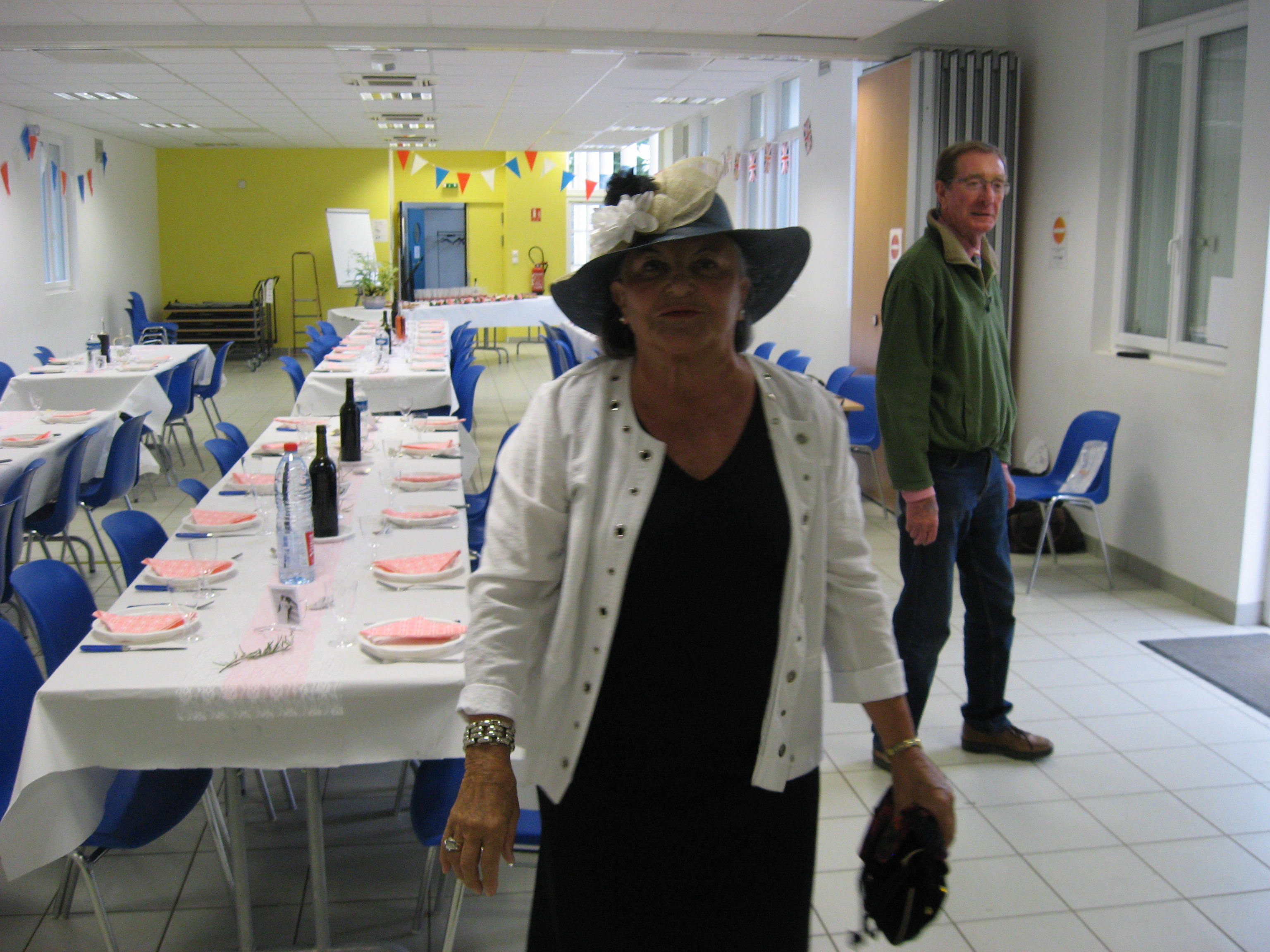 ……………….headed by Annie, like a movie star.   Ladies had been invited to wear hats and they took it very seriously – and with a great sense of fun. ………….précédés par Annie, comme une vraie Vedette de Cinéma! Les dames avaient été invitées à porter un chapeau, et elles ont suivi les consignes, avec un grand sens de l'humour .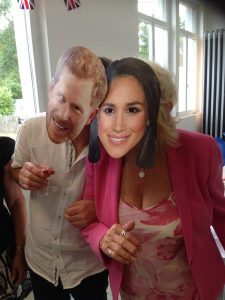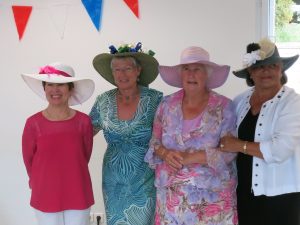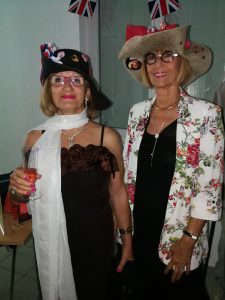 Prince Harry was delighted by the turnout, and Jo' brought a few spare hats – just in case. Le Prince Harry était ravi de la participation et Jo' avait apporté quelques chapeaux supplémentaires, au cas où …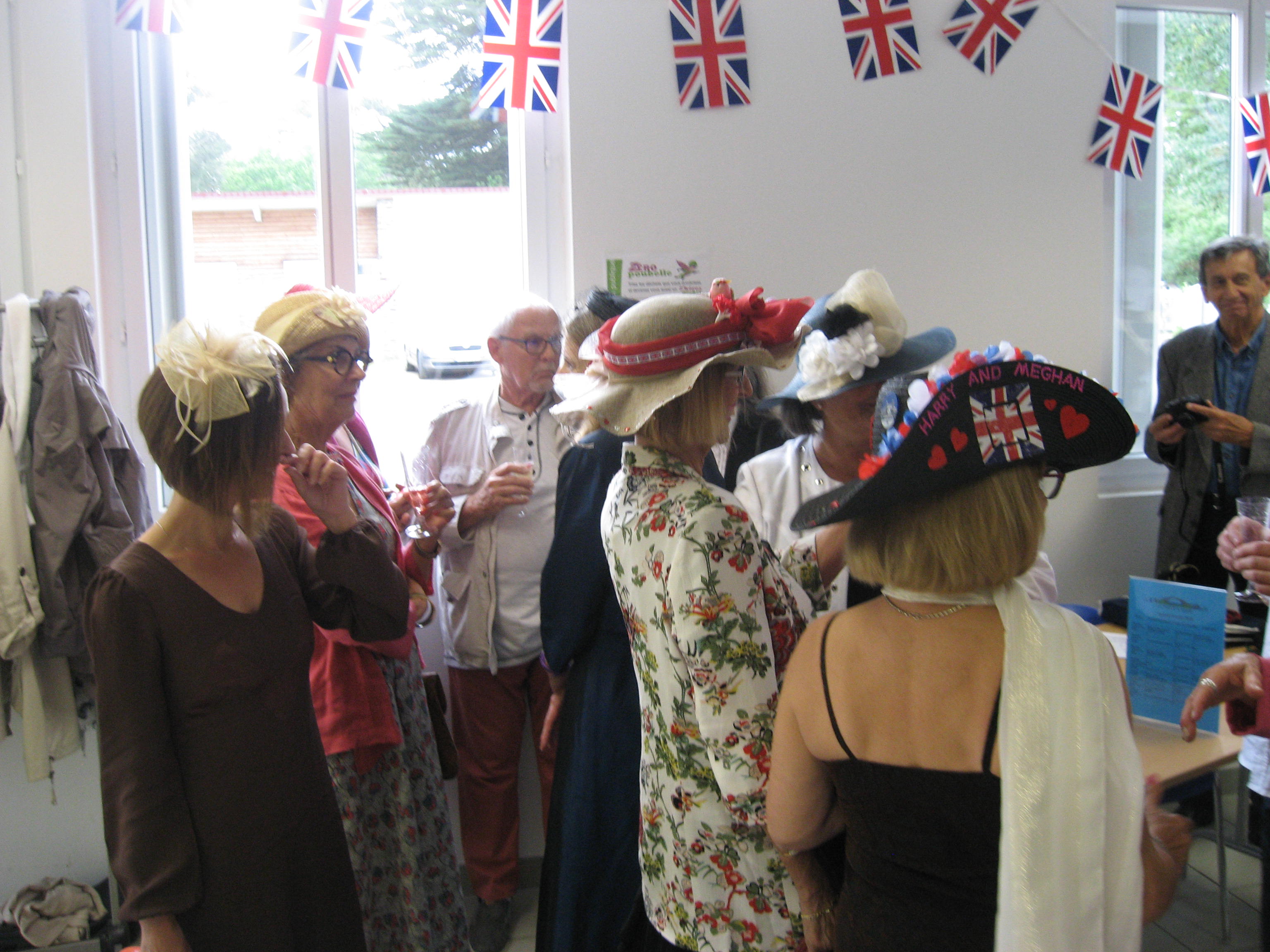 A strawberry fizz cocktail was served as members and guests arrived. Un cocktail pétillant à la fraise était servi au fur et à mesure des arrivées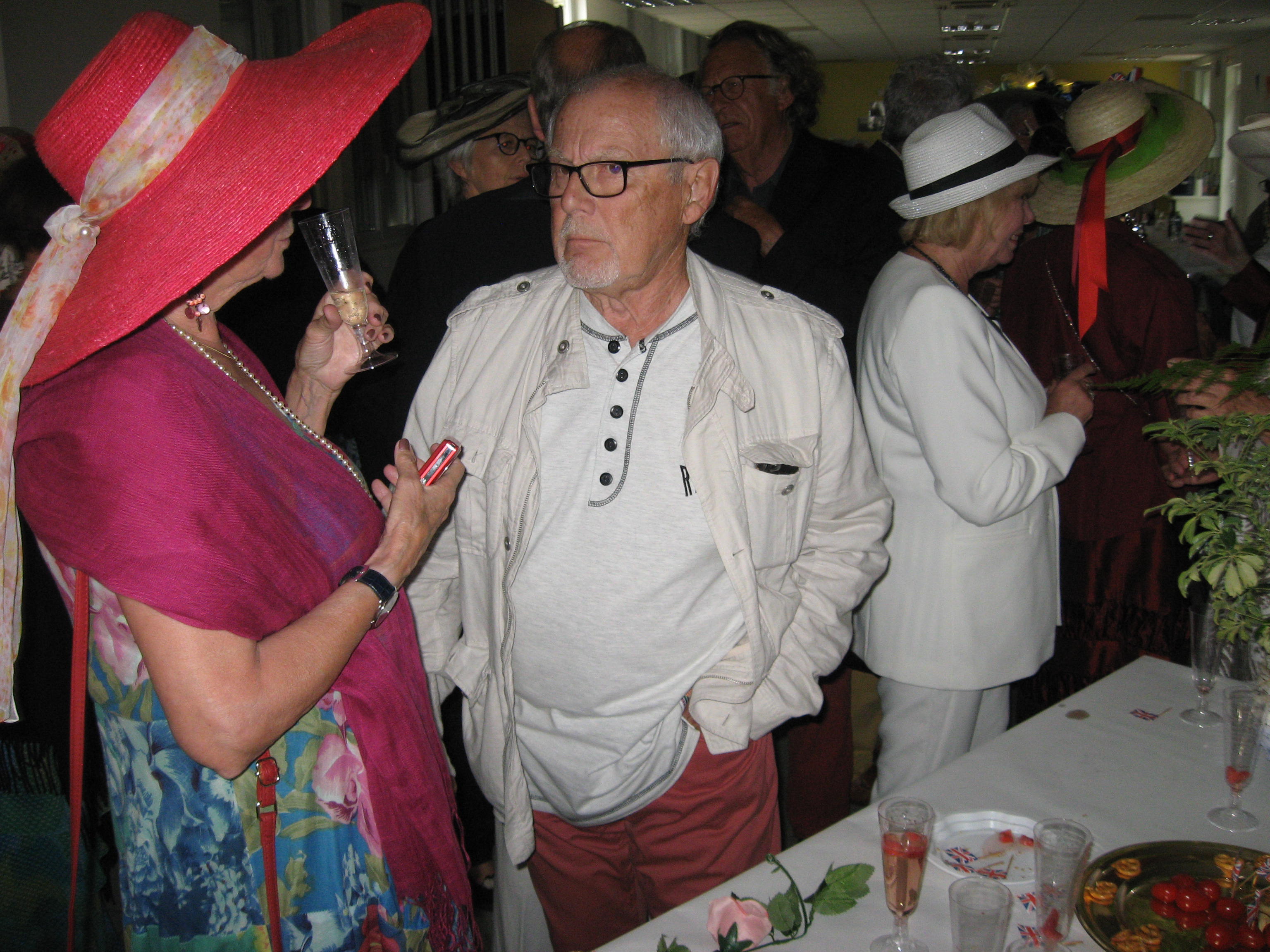 Once settled at table, Francois projected photographs, text and music which he and Cecile had created to illustrate some facts about the royal couple. Après l'installation à table, François a projeté des photos, des textes et de la musique que Cécile et lui avaient préparée pour illustrer quelques faits concernant le couple princier.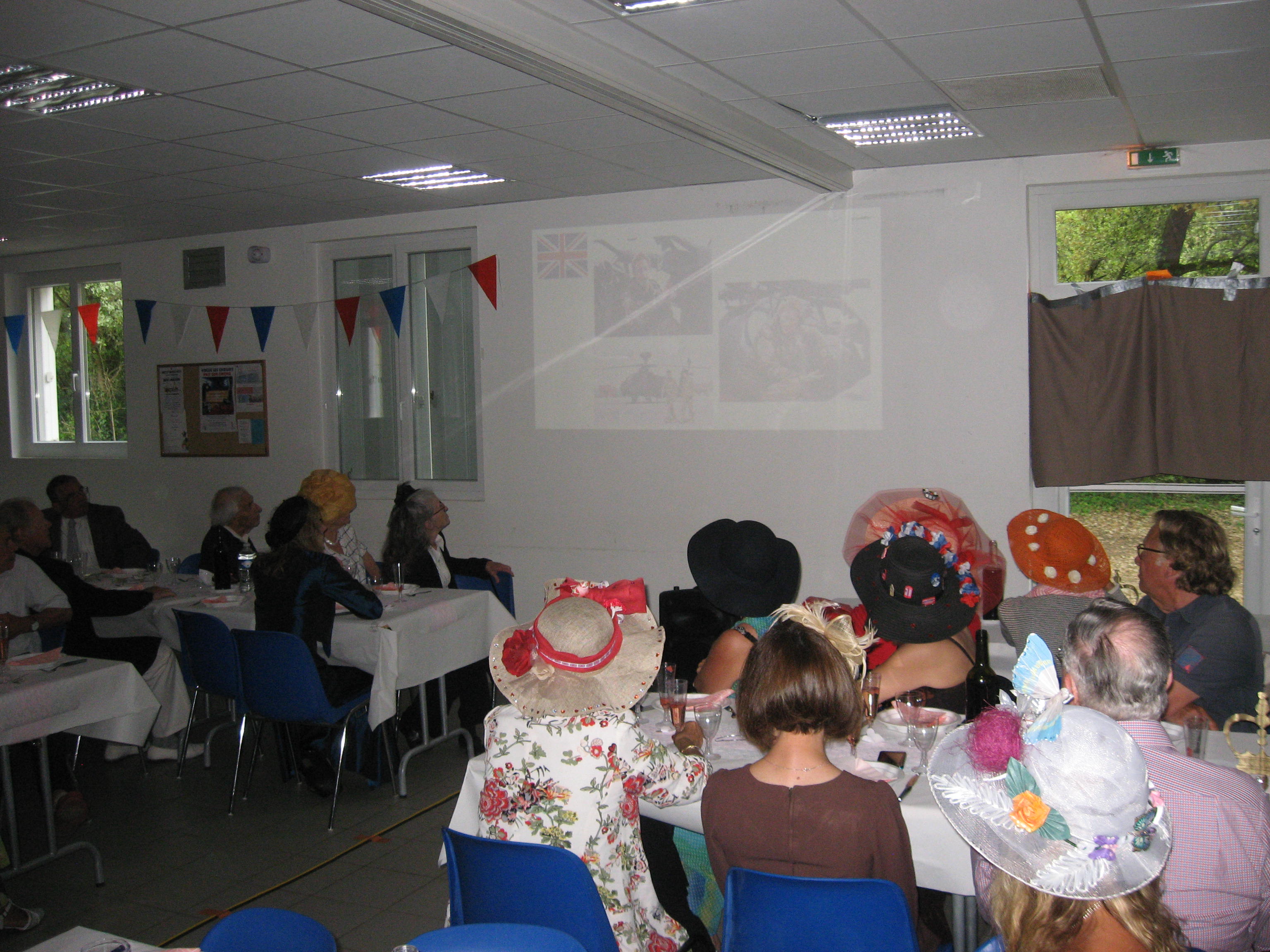 Food was then served – Coronation chicken created by Jo' and Josette, followed by a delicious array of cakes and scones produced by the British ladies. Ensuite, le repas a été servi : "Poulet du Couronnement" fait par Jo' et Josette, suivi d'un éventail gourmand de délicieuses pâtisseries préparées par les adhérentes britanniques.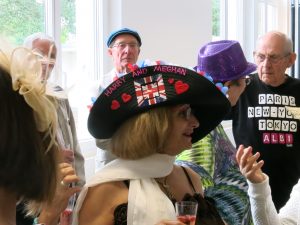 First prize!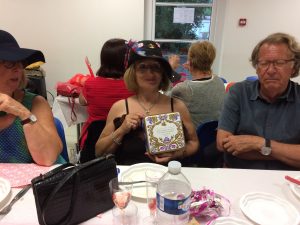 There then followed a parade of the hat-bearing ladies.  A gorgeous sight!   First prize went to Mary (Marie) with a creation featuring badges from around the UK.   Second prize went to Liliane with a 'confabulation' of extraordinary bravura – to be worn later by Arnold, since a new parade was organized with men wearing their wife's hat!!!… Ensuite, défilé des dames chapeautées. Un spectacle magnifique ! Le premier prix est allé à Marie (avec une création mettant en vedette des écussons du Royaume Uni). Le second prix est allé à Liliane pour son imagination délirante et haute en couleurs !…Un autre défilé a été organisé, avec les hommes arborant le chapeau de leur épouse !..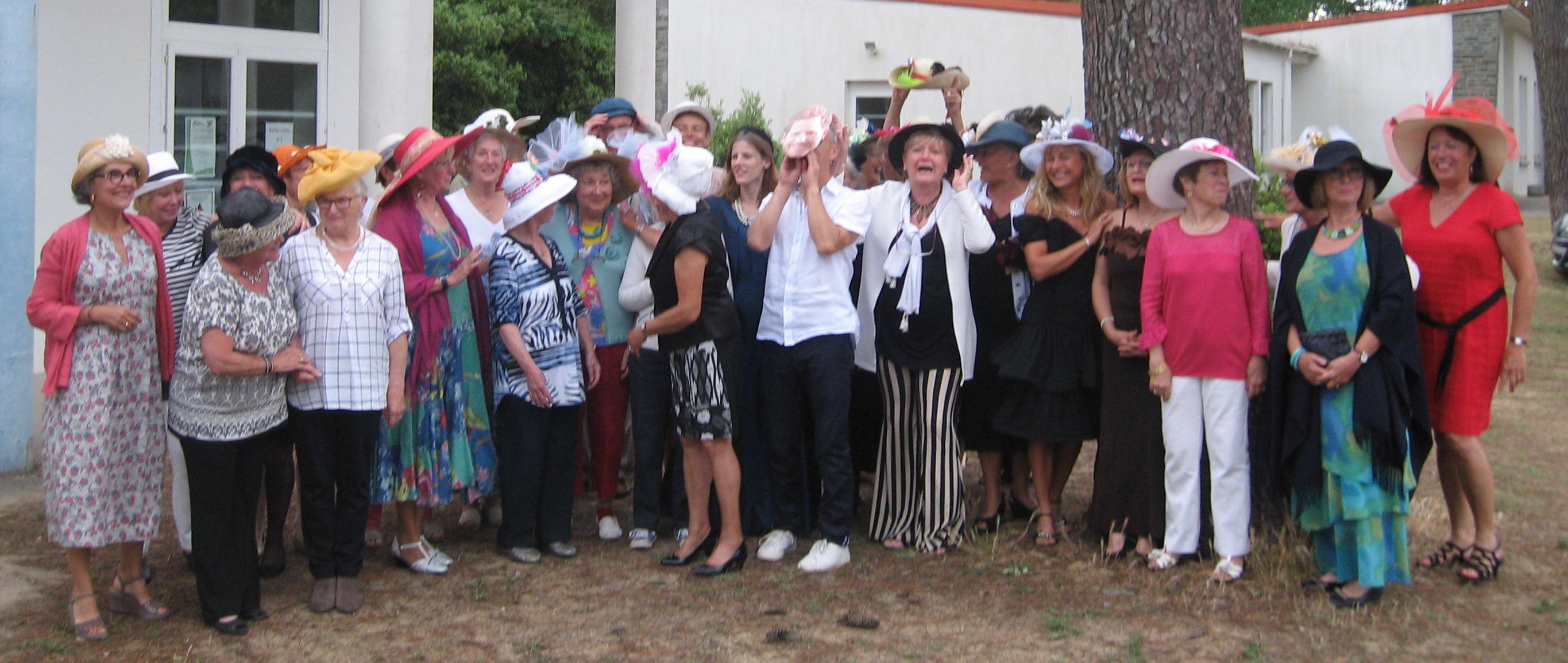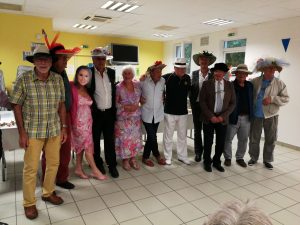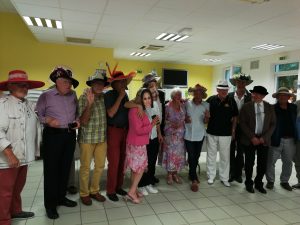 When all the cake had been eaten, and a few songs sung by Brian, Colin, Cecily and Jean-Pierre, and … some chorus girls(!…), Francois provided a 'disco' which caused several members to give vent to their adoration of the Terpsichorean Muse! – Dancing!  Quand tous les gâteaux ont été dégustés, et quelques chansons chantées par Brian, Colin, Cecily et Jean-Pierre, et…quelques choristes (!…), François s'est transformé en DJ , ce qui a conduit quelques adhérents à donner libre cours à leur passion pour la Muse Terpsichore !… la danse !!!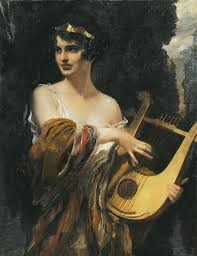 This is she.  C'est elle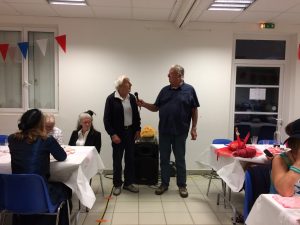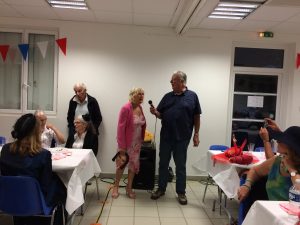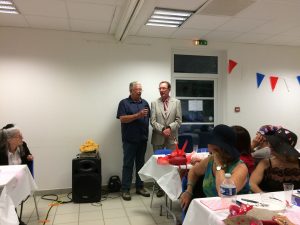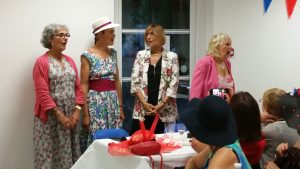 a short video :                   les choristes