Very interesting and funny Quiz with Cecily about Wales! We learnt lots of things.  Quiz très intéressant et amusant de Cedily au sujet du Pays de Galles. Nous avons appris beaucoup de choses.
Mike has been an  innovator with a Quiz looking for links between 2 people. Mike a innové en proposant un Quiz recherchant les liens entre deux personnages en photo.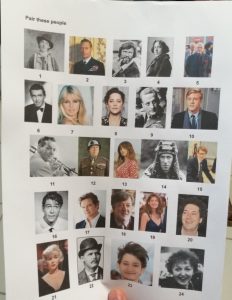 Also interesting Quiz by Michel on various questions. Egalement un Quiz très intéressant de Michel sur des questions diverses.