Magnifique journée sous les ombrages, le 19 août a été une date bien choisie pour le temps superbe !  A wonderful day beneath the trees, the 19th August proving to be a day of perfect weather.
Trente deux participants pour le pique nique annuel se sont retrouvés sous les arbres près du lac pour se régaler de nourritures diverses et variées, que tout le monde   partage !!!  Thirty two members and friends  were to be found enjoying the shade by  the Lac de Jaunay.   As usual, an excellent and varied selection of food arrived and  the 'bring and share' principle reigned to
everyones delectation.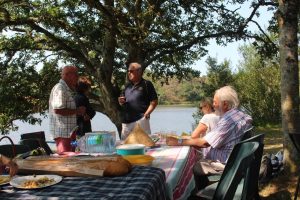 Après le repas, il y a eu des jeux de boules, de Molkky, de société, sous le signe de la bonne humeur…  After lunch, various pastimes were enjoyed:  boules, Molkkhy and board games.   Some even had a brief snooze.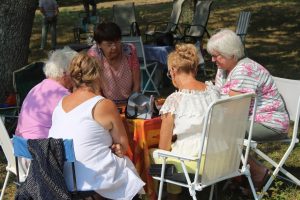 Même Crack, le chien de Derek, a apprécié …  Even Crack, Derek's dog appreciated a langorous end to a delightful day….