There was a 'full house' for last evenings Curry Night.  The evening began with the usual welcoming Kir. On a affiché "complet" pour notre Dîner Curry ! Et la soirée a commencé avec le kir habituel de bienvenue.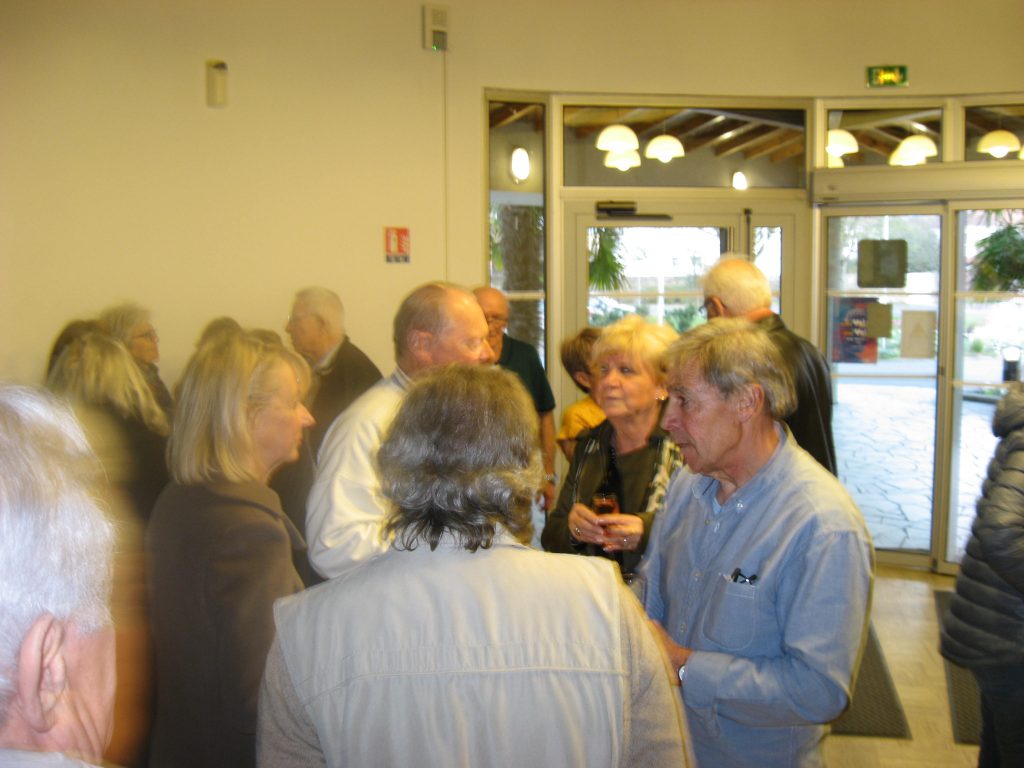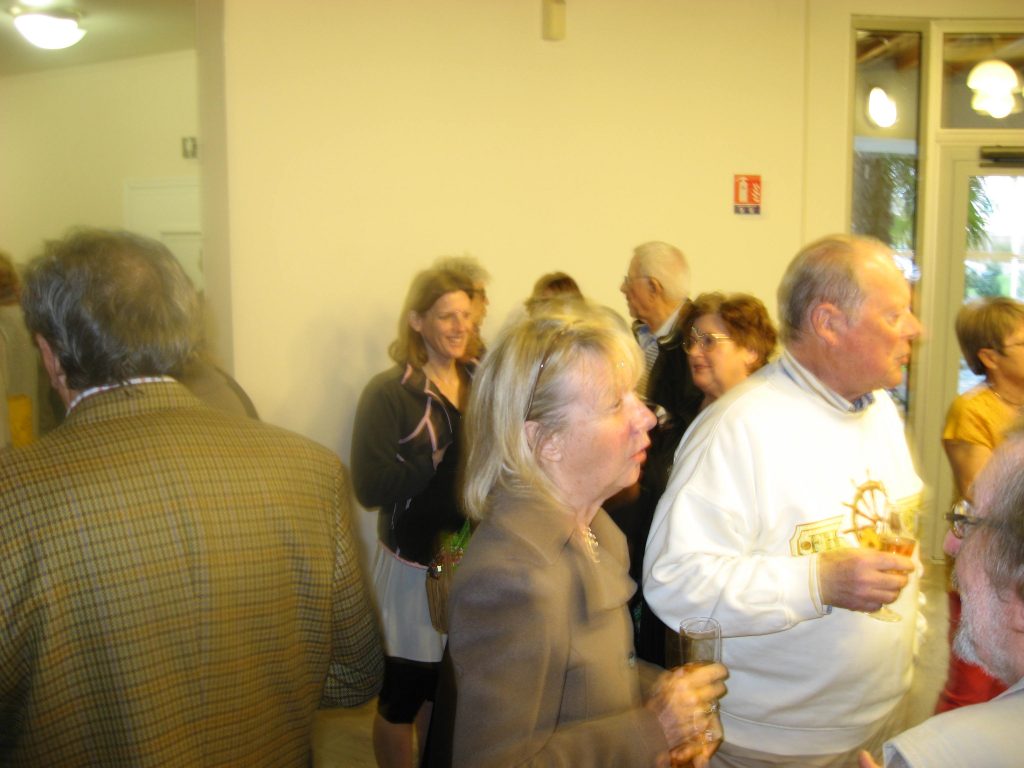 Some comments had been made by some with a traditional bent, who were not keen on the idea of having a curry . However, one of the most staunch 'traditionalists' admitted later that he had enjoyed his curry. Quelques personnes ont émis des doutes sur le fait de faire une soirée Curry. Cependant après le diner, les plus farouches opposants ont admis qu'ils avaient beaucoup apprecié ce curry ! …
So for that matter did everyone else. Our 'traiteur' had done a very good job of creation an authentic chicken curry with real curry flavours but quite subtle. Notre traiteur a très bien travaillé. Il a fait un très bon curry de poulet avec les vrais parfums du curry ! …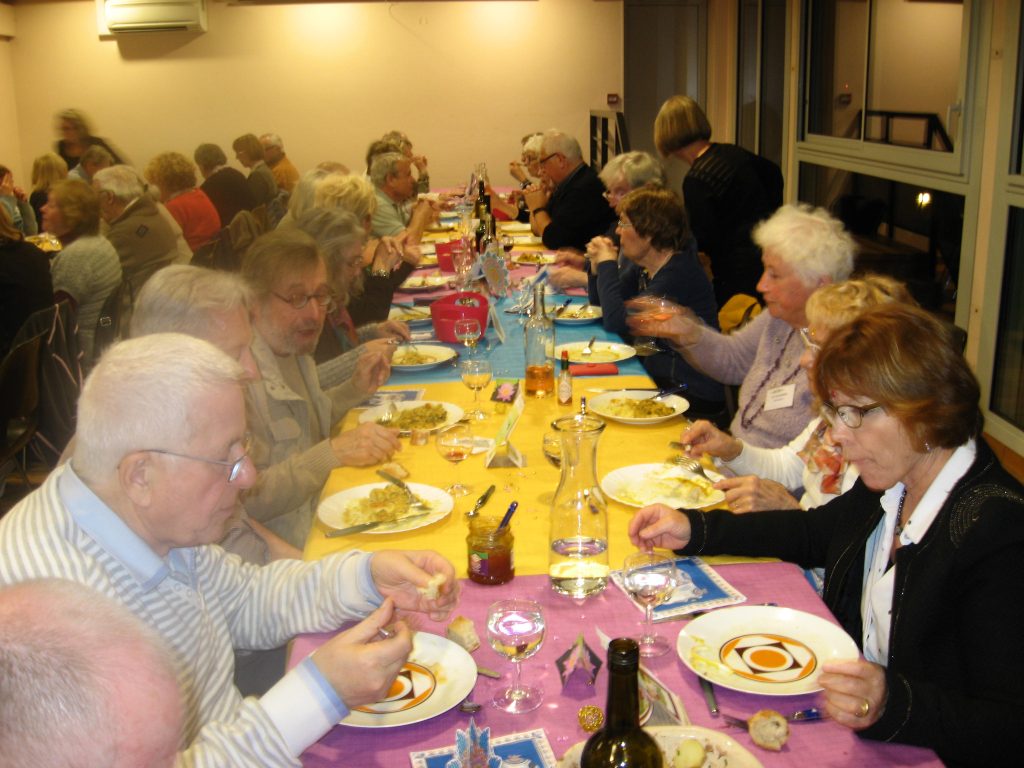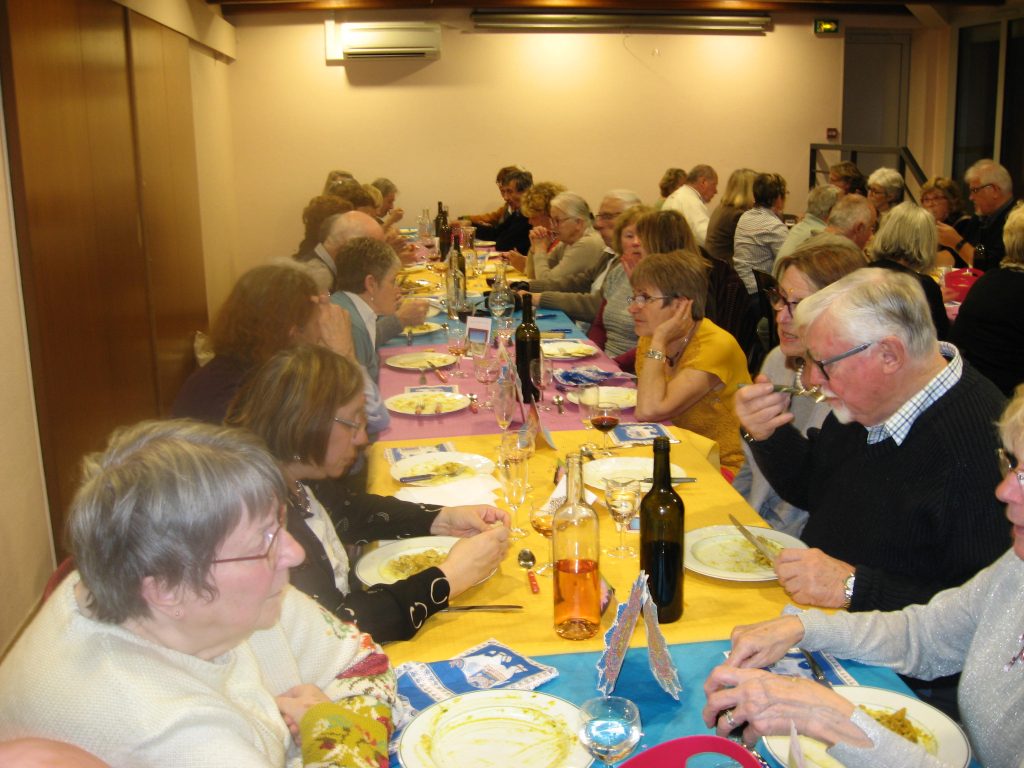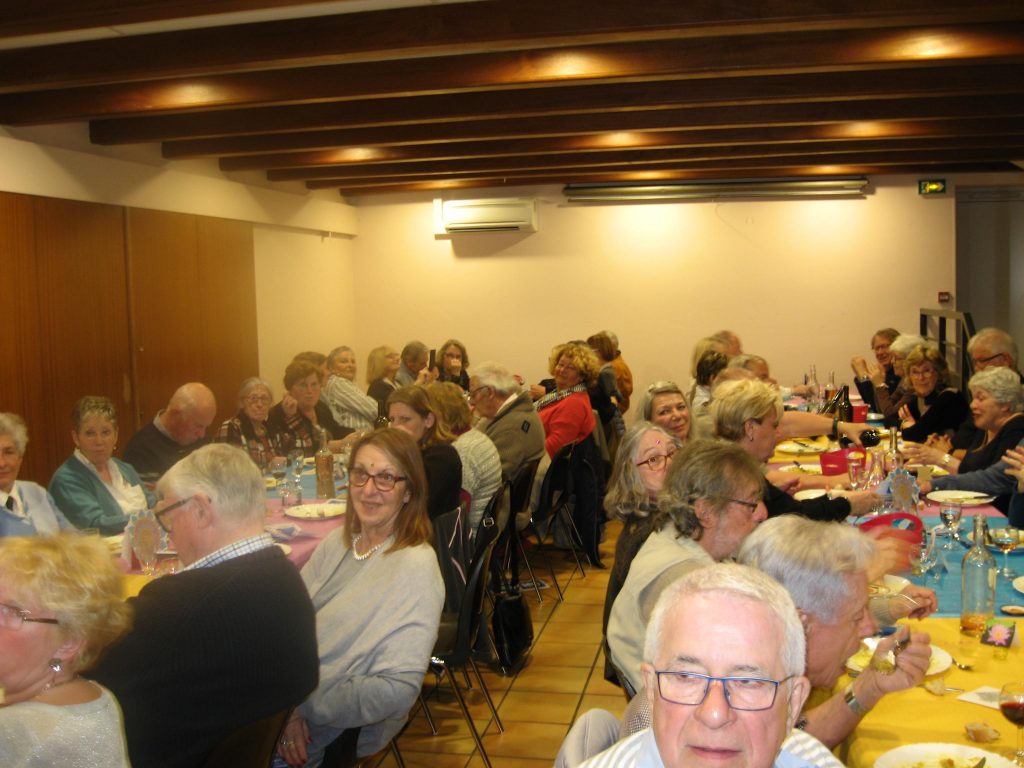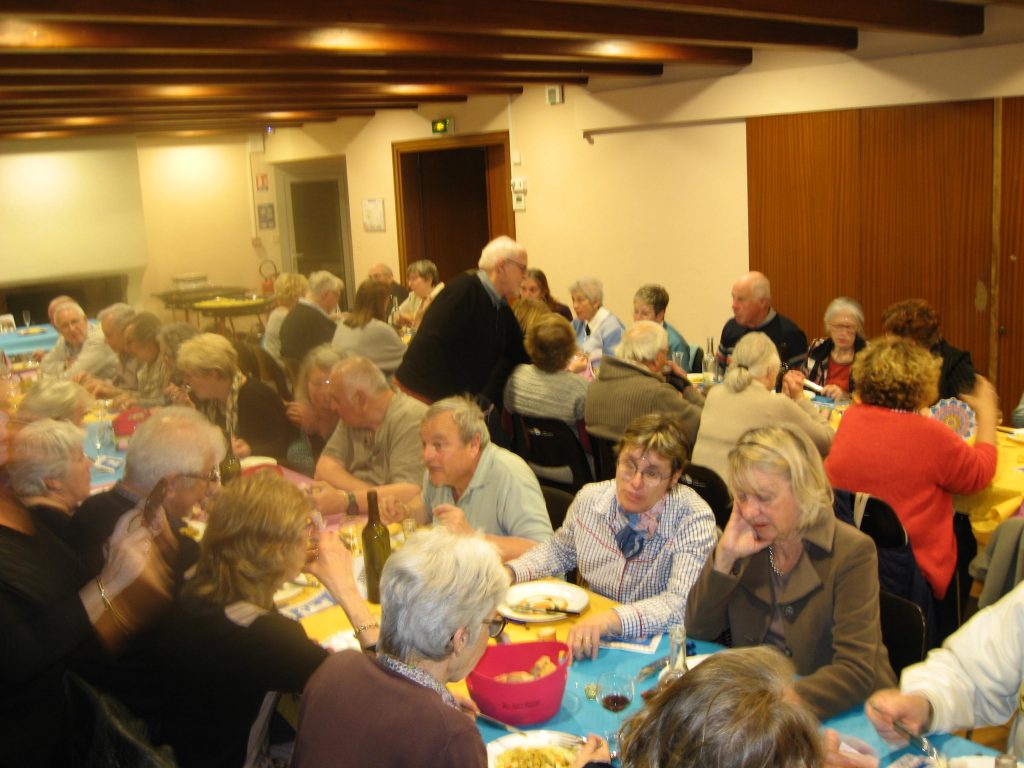 After the main course was finished. Michèle (who had decorated the tables beautifully with all kinds of symbols of indian traditions), gave a brief talk about those traditions and the origins of curry.
Après le plat principal, Michèle (qui avait très joliment décoré les tables avec toutes sortes de symboles des traditions indiennes) nous a fait un petit exposé sur ces traditions et les origines du curry.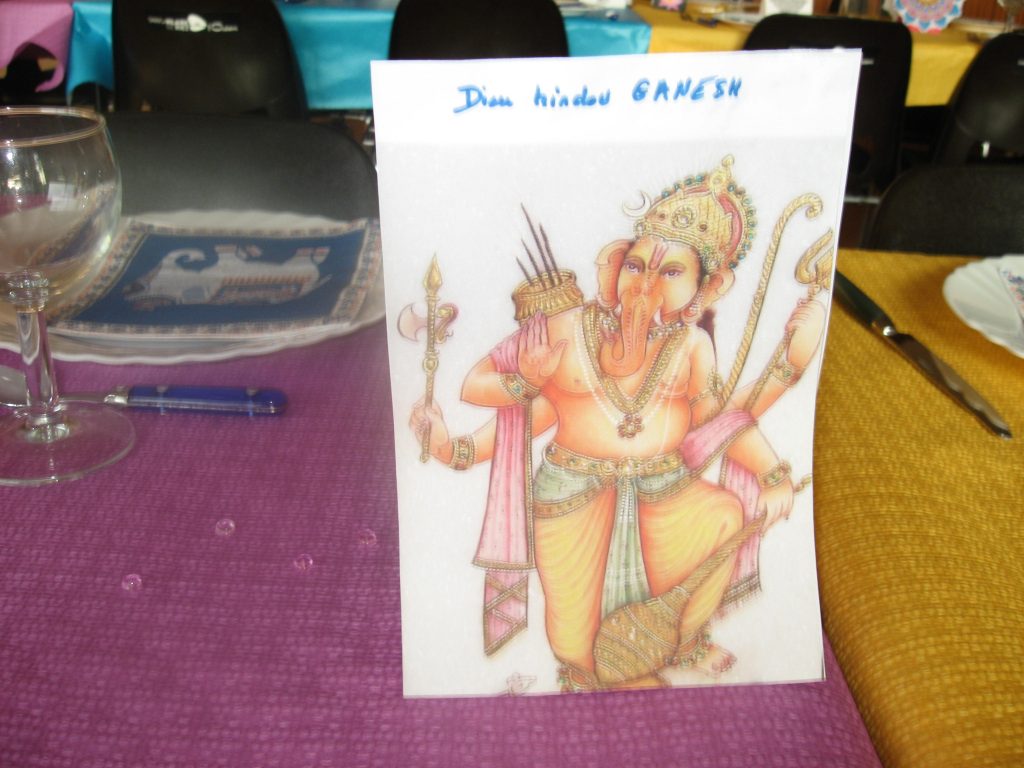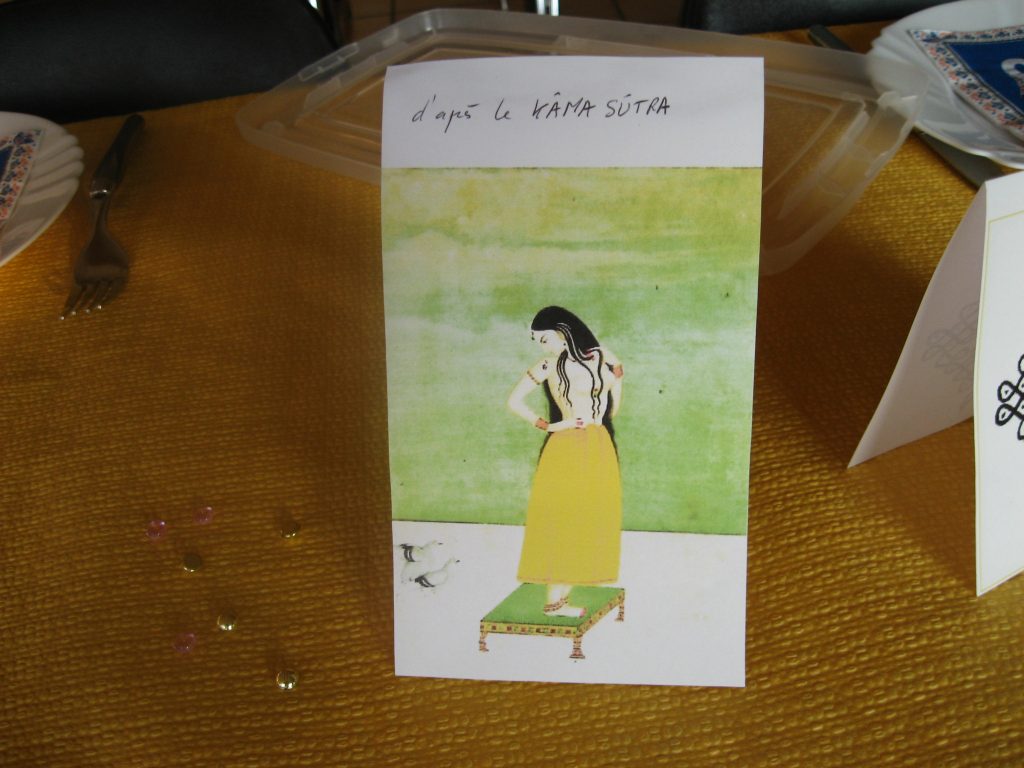 After the meal the evening became much more lively as singers vied to take the stage. Annie had made a 'Le Pont Songbook' with french and english songs which proved very useful. However, all good things have to come to an end and, as usual, members helped clear tables and chairs and with the washing-up in the kichen. Thanks to everyone who contributed to making the evening a great success.
Après le repas, la sorée s'est considérablement animée avec les chanteurs aui sont entrés en piste . Annie (avec l'aide d'Emile) avait fait un cahier de chansons 'Le Pont A Sion' , composé de chansons anglaises et francaises, ce qui s'est avéré bien utile! Cependant, toutes les bonnes choses ayant une fin, quelques adhérents nous ont aidés avec le rangement , Un grand MERCI à tous ceux qui ont permis de faire de cette soirée Curry un sucès…