The weather is improving and summer activities beckon.  We are looking forward to Thursday 9th June at the Salle Communale in Sion for   the Spanish Evening – with everyone bringing some 'tapas'. – Sangria and wine supplied!
The end of June ( Thursday 30th) brings our visit to Les Sables forFish and Chips.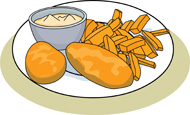 It also heralds  the end of our 'in-house' activities until we meet again in September.
So, our final meeting before the break will be on Friday July 1st and the first one afterwards will be on Thursday September 1st.
However, during the break, we will have the annual picnic at the Lac du Jaunay on 14th August –
Roger's birthday!  
GPS co-ordinates for those who have not been before:
N. 46°  39′  44.1576″           W.  1° 44′  58.362″
We also hope to see members at the Bourrine de Loulou sometime during the break – Saturday 18th June is the Fete de la Musique nationally,  and the Bourrine should be buzzing,  so that could be an excellent evening.   For the  full summer programme for the Bourrine, see FUTURE EVENTS.