SPANISH EVENING – JUNE 9TH
A very warm evening provided the backdrop for an excellent event during which we enjoyed an amazing variety of tapas (and deserts) supplied by our talented Members. Une soirée agréablement chaude a été la toile de fond d'un excellent dîner, au cours duquel nous avons pu nous régaler d'une incroyable variété de tapas (et de desserts) fournis par nos talentueux adhérents.

The evening began with a convivial glass of Sangria
La soirée a commencé avec un verre de Sangria de circonstance …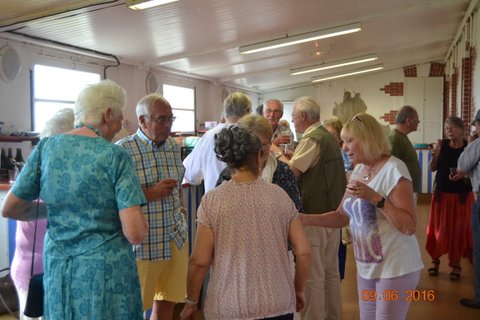 before getting down to the serious business of enjoying the tapas(es)??  How do you do a plural??? … avant de passer aux choses sérieuses : déguster toutes les tapas …


Naturally, the wine flowed freely and some were even so stimulated as to attempt a flamenco!
Naturellement, le vin a coulé à flots, et certains en ont même été incités à s'essayer au flamenco!…
An excellent evening enjoyed by all.  

Don't forget the Fish and Chips on 30th.

Une excellente soirée appréciée par tous les participants.

N'oubliez pas la Soirée Fish and Chips aux Sables d'Olonne le 30 juin!