CREPES EVENING

THURSDAY FEBRUARY 2nd
Avec son dévouement, sa gentillesse et son savoir-faire connus de tous, notre ami François avait passé des heures à préparer galettes de sarrasin et crêpes de froment !… toujours aussi délicieuses et appréciées par les 56 gourmands de l'Association qui s'étaient déplacés.
Francois, with his well known committment, and his own special 'know-how' spent many hours before the event, preparing the galettes and crepes for their last-minute adornment and appreciation by the 56 gourmet Members of the Association who attended.
Aidé des fidèles Eliane, Wendy et Maryse, elles-mêmes secondés par Michèle et Cécile,  tout ce petit monde s'est activé pour les réchauffer et approvisionner tous les participants.
Aided by his faithful helpers, Eliane, Wendy and Maryse and in turn by Michele and Cecile who relieved  them, Francois and the team  were fully occupied in re-heating and dressing the galettes and crepes with great flair.
Comme d'habitude, une soirée très réussie avec une excellente ambiance qui a également séduit les nouveaux adhérents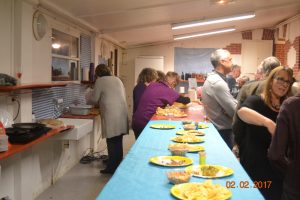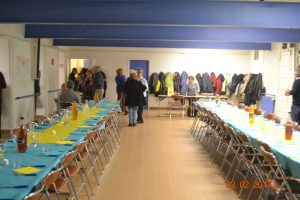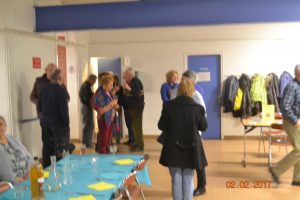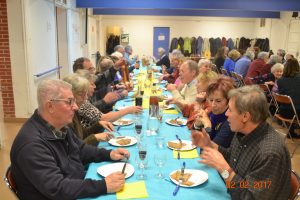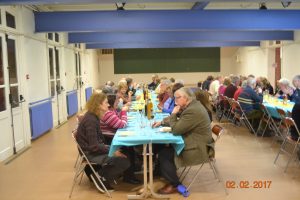 As seems to be increasingly the case, this was another evening of outstanding 'chaleur' and much enjoyed by all old (and new) Members.