Sadly we were unable to have our usual visit to Les Sables for fish and chips as the lady fish and chipper has moved her business to the north coast.  However, our valiant Secretary, Dom' Morris rose to the challenge by organising a visit to the Rock'Ale bar in Bretignolles.    Malheureusement, cette année, nous n'avons pas pu déguster nos traditionnels "Fish & Chips" aux Sables d'Olonne, car Christine, la proprétaire de la roulotte, est partie définitivement en Normandie!… Cependant notre Secrétaire, Dom' Morris, a relevé le défi en organisant une soirée tapas/musique au Rock'Ale à Brétignolles.
In recent years more of these eclectic and 'quirky' bars have sprung up offering much more than the normal, 'utilitarian' French bar. Depuis quelques années on a vu fleurir nombre de ces bars/tavernes proposant plus que les bars habituels.
This bar has a very wide variety of wines and beer to offer, together with lots of food – of which we enjoyed a variety. Ce bar propose une grande variété de vins et de bières, de même qu'un assortiment de tapas dont nous nous sommes régalés.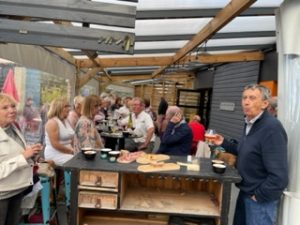 Music was provided by Dom' .   However such was the air of 'conviviality' that I for one was unaware of the music! La playlist musicale a été concoctée par Dom, mais la convivialité était telle, qu'elle est passée au second plan. De plus, de nombreux chanteurs nous ont aussi égayés…     An excellent evening.  Une excellente soirée.
Now for the picnic on July 20th at Lac de Jaunay.
Et maintenant, prochain rendez-vous pour le pique-nique du 20 juillet au Lac du Jaunay, à la Baudrière!