What a brilliant time we all  had!   Josette, with the help of the excellent staff had everyone divested of coats etc., and installed on one of our three allotted tables.    Fifty four members and guests admired the beautifully decorated hall. Quel moment formidable nous avons tous passé ! Josette, avec l'aide du sympathique personnel, nous a fait passer au vestiaire et installer à l'une des trois grandes tables qui nous étaient attribuées. Cinquante quatre adhérents ont pu admirer cette grande salle magnifiquement décorée.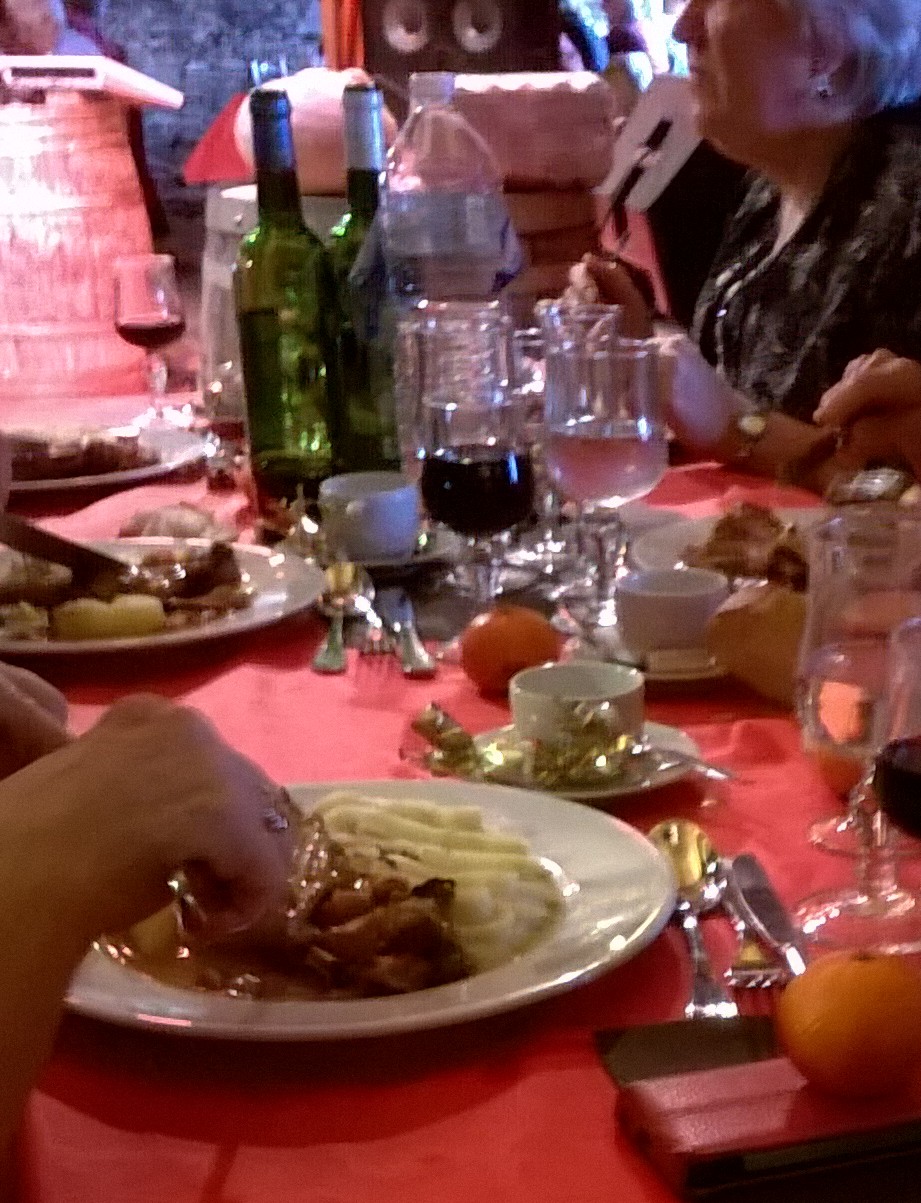 The food was equally excellent, with foie gras for starters, a fish course, roasted duck, cheese, and a flambéed baked Alaska – rich with rum!!    Le Pouc'ton events are definitely not tee-total affairs, and excellent wine was provided in abundance from the Cote de Blaye – part of the Bordeaux region. Le repas a été également excellent, avec du foie gras en entrée, puis un caquelon de poisson, du canard rôti, des fromages, et une omelette norvégienne généreusement flambée au rhum ! Les manifestations du Pouc'ton ne sont vraiment pas faites pour les abstinents … car d'excellents vins ont été fournis ad libitum dont un très bon  Côte de Blaye .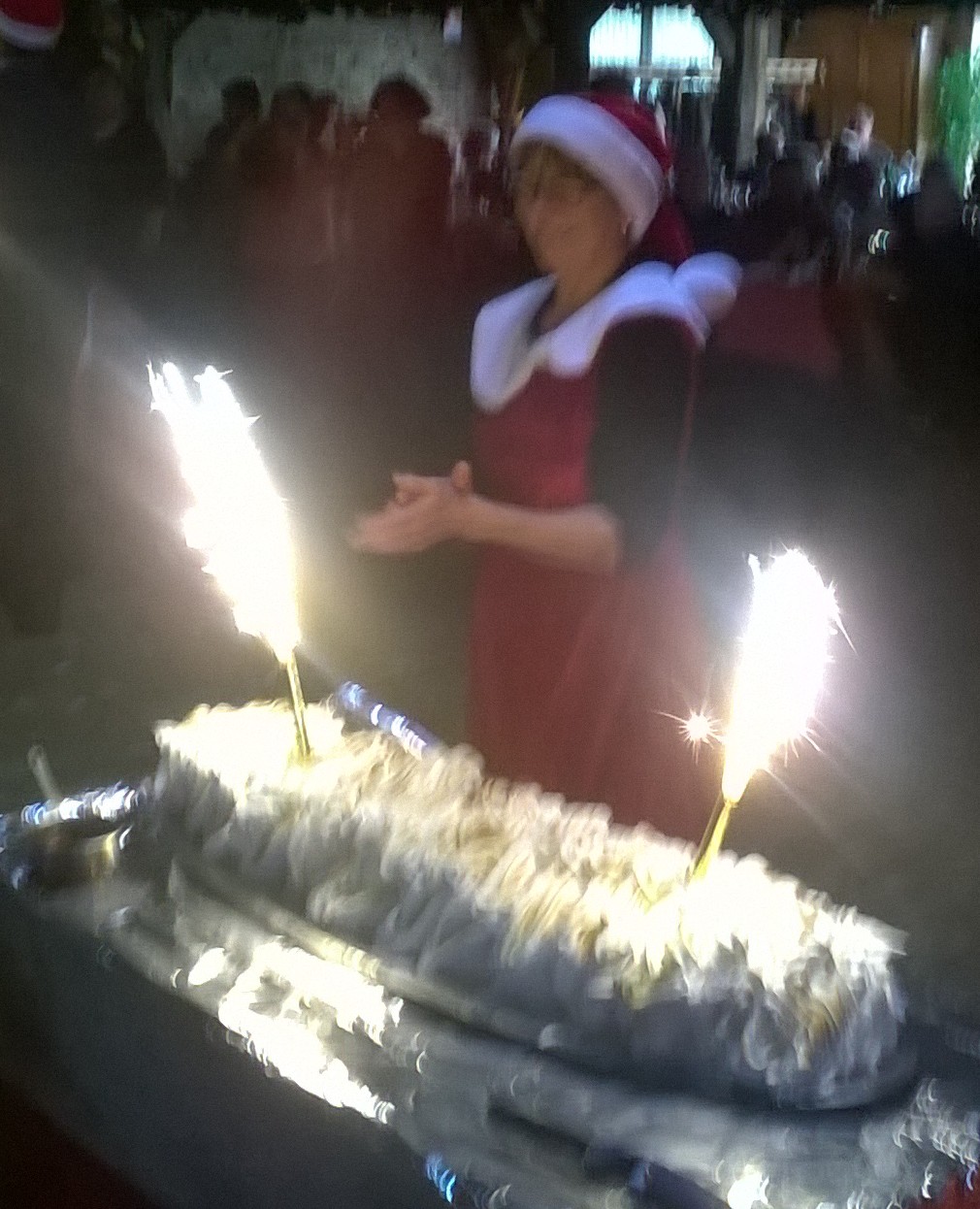 Guests were slightly startled to see a group of uniformed gendarmes enter the hall, but fears were quickly dispelled when we all realized that they were to provide the Entertainment. Les participants ont été un peu surpris de voir des gendarmes en uniforme débarquer dans la salle, mais les craintes se sont rapidement dissipées quand nous avons compris qu'ils commençaient le spectacle!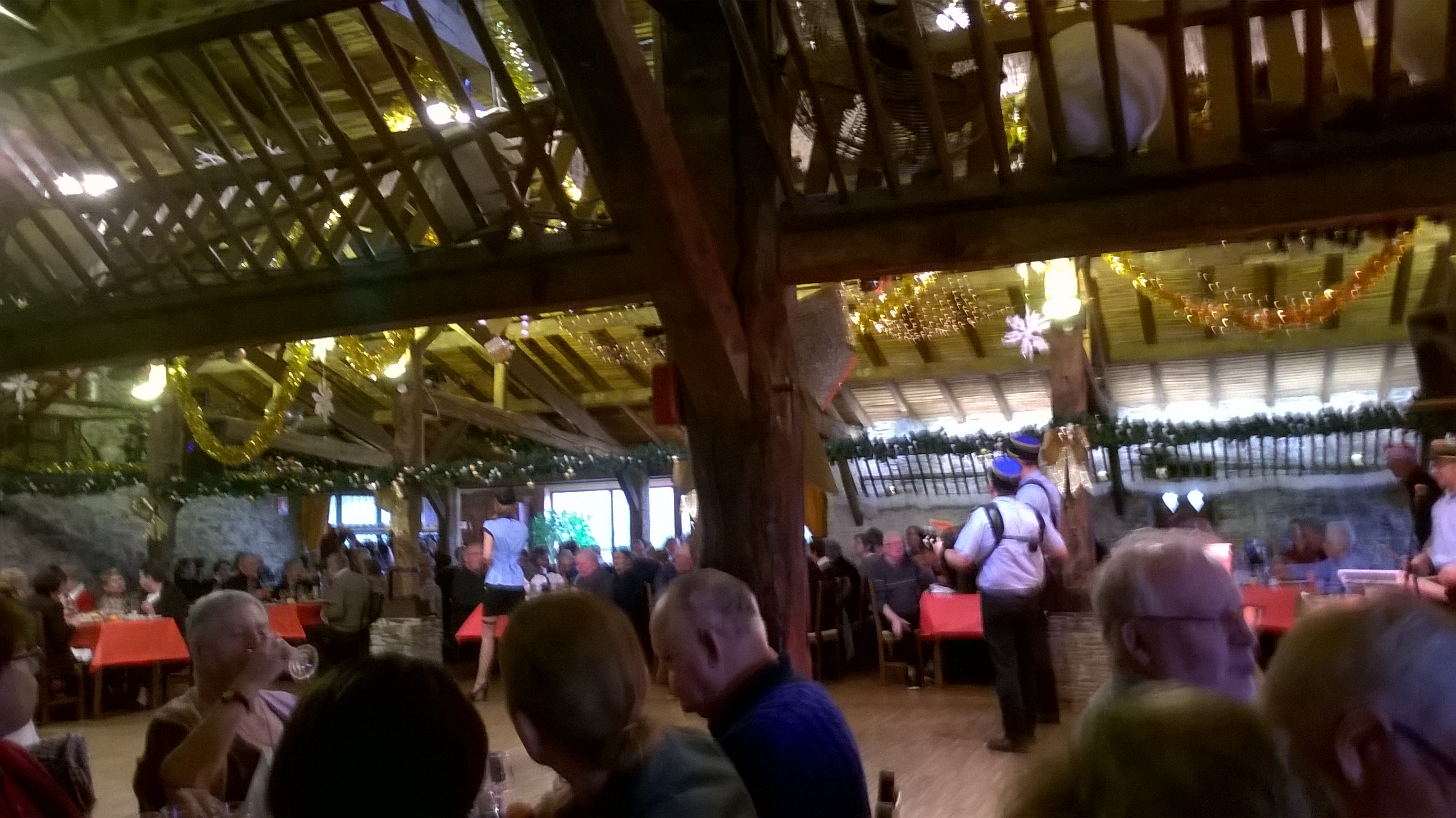 This they did with music from guitar, accordéon and keyboard – not to mention voice.   They also organised various games, one of which involved Jean Yves being kitted out as a cow…….. Ce qu'ils ont fait avec de la musique (guitare, accordéon, clavier et quelques jolies voix. Ils ont aussi organisé des danses, et des jeux variés, dont l'un impliquait Jean-Yves déguisé en vache …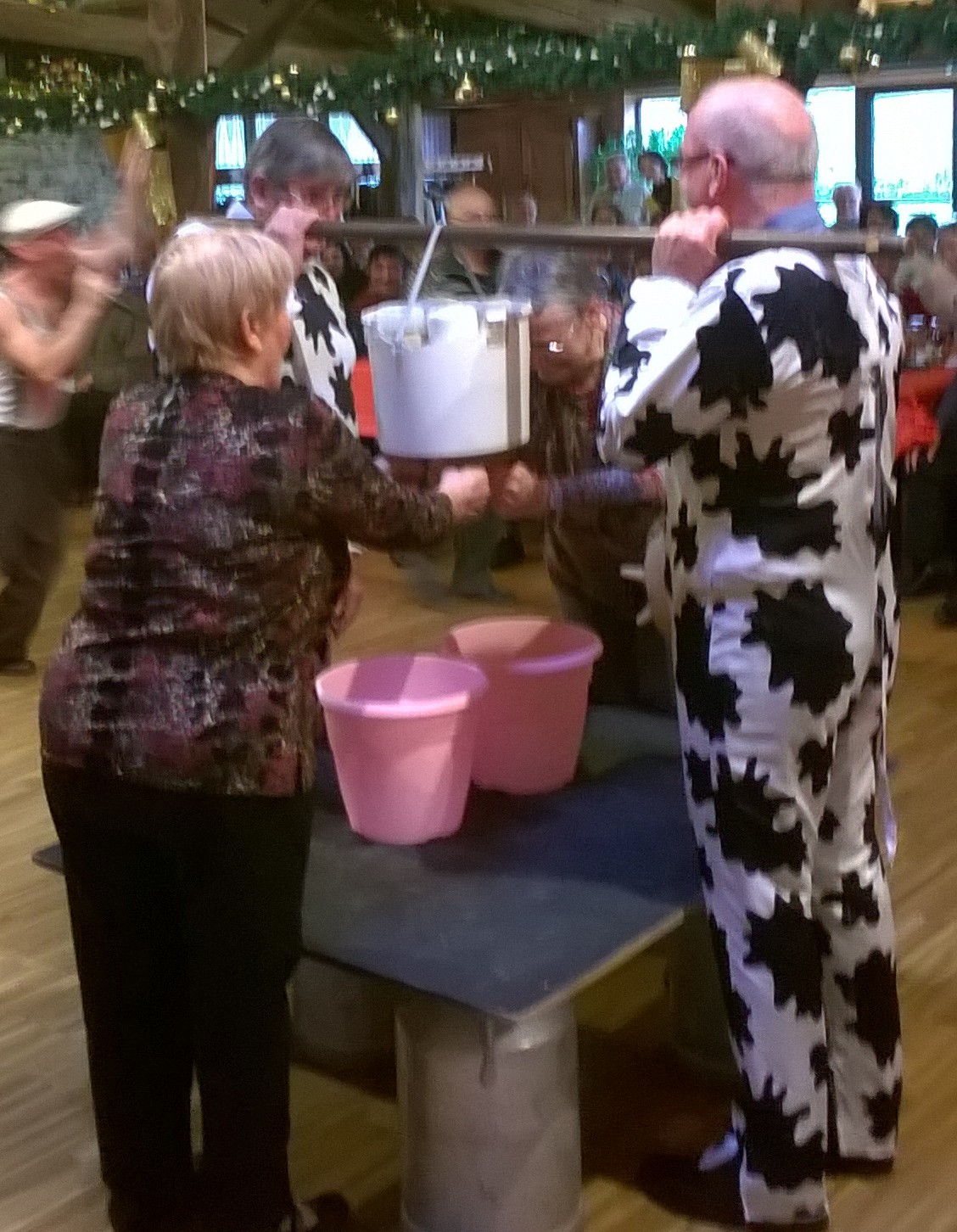 ,,,,,,,,,,for reasons not entirely clear to some of us! ….. pour des raisons pas très claires pour nos amis Britanniques ! and imitations of singers from the 60's/70's!… et des imitations de chanteurs des années 60/70!…
           The fun and frolic continued, with Nicole and Francois    being delighted to trip the light fantastic with a tango. Les amusements et activités ont continué, avec Nicole et François qui ont pu se défouler avec un superbe tango …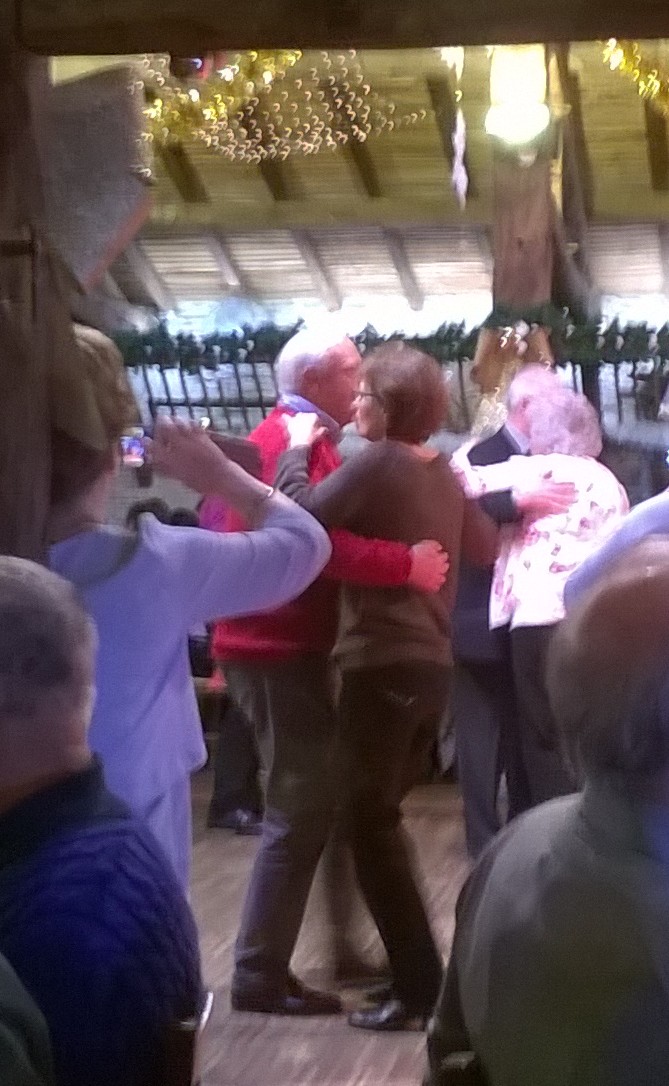 What an excellent end to 2016 for Le Pont a Sion.   Things looked a little doubtful for a while, but Josette was persistent in her endeavours and yesterday was the result.   Thanks to her in what was her penultimate task before the AGM (on January 28th) and her retirement as our Secretary.    Thanks also to everyone who attended and made such a great success. Quelle excellente fin d'année 2016 pour Le Pont A Sion !… Les choses avaient été plus qu'incertaines pendant quelque temps, mais Josette a persévéré dans ses investigations, et on a pu voir le résultat. Qu'elle en soit remerciée, car c'était son avant-dernière tâche avant la prochaine Assemblée Générale (le 28 janvier 2017) et sa démission de Secrétaire. Merci également à tous les participants qui ont permis ce grand succès.